4-Reflections and applications
In our last activity for this mini-course, we're going to pause for a few moments to reflect on what we've done and to think about how it might apply to our own learning environments. This kind of reflection and application is an important part of the make/hack/play process and an important part of creative thinking and problem solving.

Choose one or more questions from the list below (and/or add your own) and answer them in a comment. Then read others' comments and reflect on them and how they change your thinking if at all.
What was your favorite activity from this mini-course? Why? What did it help you learn?
Now that you've been through these activities, what does "make/hack/play" mean to you?
How might you apply the ideas of "make/hack/play" to your own classroom or other learning environment?
What benefits do maker activities offer for STEMx learning?
Add your own question to reflect on
Kids Maker Space (Photo courtesy of Bud Hunt, Center for Make/Hack/Play)
PLEASE COMPLETE THIS SHORT SURVEY TO HELP US IMPROVE THIS COURSE.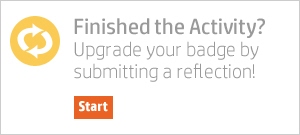 We hope you've enjoyed this mini-course. We sure have! Also, this course will be re-offered in the future, so check back here and at the HP Catalyst Academy and tell your friends!
---
Comments
comments powered by

Disqus